About Us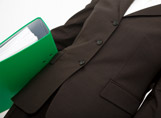 TheDataFyles was formed to offer businesses and entrepreneurs the ability to utilize their data in the most effective way. With services such as database development, research assistance, inventory management, and filing system organization, we are here to assist businesses with their data needs.
Rewa Fyles, Owner and Director, possesses keen organizational skills, and thoroughly understands the importance of efficient and effective information management to the overall success of a business. Of the many projects Rewa has worked on throughout her career, data control and organization has been her strength. The ability to sort through a mass of data in order to organize, research, and/or develop the information for a specific purpose has been a major factor to her success.
Rewa has a Bachelor of Business Administration in Management, a Master of Science in Human Resources Management, and a Master of Science in Finance. She has worked in Corporate America for over fifteen years, and has experience in the consulting, energy, insurance, real estate, and manufacturing industries.
Working with TheDataFyles means working with professionals who understand the importance of data integrity and confidentiality. We are committed to providing productive methods for businesses and entrepreneurs to access essential data.