Welcome to TheDataFyles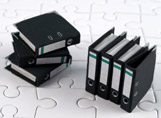 TheDataFyles provides the support your business needs to be effective and efficient. We help businesses by helping them stay organized, manage their data, and streamline their processes and procedures.

We provide services in the areas of data analysis, process and task support, and human resources management.
The reason our motto is "All things organized," is we believe that success comes from organization. Our goal is to help you strengthen your business processes, achieve a high level of organization, and ensure that needed data is easily accessible.
Data Analysis:
Well-organized information systems provide valuable information, help businesses better meet customer needs, and improves internal processes – it is important to have efficient data organization systems in place, so that needed information is always easy to access.
Process and Task Support:
Our Process and Task Support services are designed to support your staff and add value to your processes and procedures. We can review, make recommendations, and implement solutions on how to streamline your business processes. As well, we can organize filing systems, create forms tailored to your business needs, and develop content for marketing items.
Human Resources Management:
TheDataFyles is aware of the challenges businesses face with the many aspects of Human Resources, specifically with compliance. We are certified HR professionals and can provide your business with the assistance needed to have a highly efficient, valued, and dependable HR function for your employees.
TheDataFyles offers services in the following areas
Data Analysis
Process and Task Support
Human Resources Management
About Us
We work with businesses to prioritize data organization needs and implement process improvement initiatives.
Our Services
TheDataFyles provides the business management services and support your business needs in order to be organized and efficient.