Welcome to TheDataFyles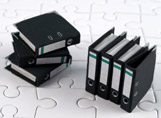 TheDataFyles understands the challenges businesses and entrepreneurs face with keeping data organized. Well-organized information systems provide valuable information, help businesses better meet customer needs, and improve internal processes.

Efficient information management is essential to success and TheDataFyles has the experience and expertise to organize your data into a useful and effective format.
Data:
The reason our motto is "All things organized," is we believe that success comes from organization. Having data readily available is a benefit for all companies – it is important to have efficient data organization systems in place so that needed information is always easy to access.
Solutions:
TheDataFyles has the data solutions that will assist you in organizing and utilizing your data. We can develop databases and perform data input, create surveys and newsletters for communication with your customers and clients, and perform research and develop reports to assist with major projects and business decisions.
Benefits:
There are many benefits for hiring TheDataFyles to take care of your data needs. Our services allow you to free up your staff to focus on other projects and duties. In addition, we work on a contract basis with reasonable fees, and we offer packages that will allow you to combine select services.
TheDataFyles has your Data Solutions
Organize, compile, and edit data
Create business forms, e-newsletters, and surveys
Provide research assistance
Develop customized databases
About Us
Our goal is to be the business that businesses and entrepreneurs seek when they need to get their data in order.
Our Services
Let TheDataFyles be the extension of your business that extends your business.